I realized that for a blog with "Crayons" in the name I should really have some posts about crayons!! So here we go with the ultimate guide to melting crayons.
Being the OCD academic classifier than I am, I adore sorting things like crayons which comes in handy for some of these projects.
TO PEEL OR NOT TO PEEL?
Most of these blog authors peeled the paper off their crayons (or had the kids do that during church lol). Some folks like
The Go Green Blog
melted crayons with the paper on and just removed papers before pouring into molds.
If you do peel save the wrappers!
HOW TO MELT CRAYONS AND WHAT TO DO WITH THEM
Please visit these blogger sites to learn more about their specific instructions for temperatures and what molds worked best for them and what special safety instructions apply, especially with kids. Hint:
Some molds
melt with the crayons and empty
pill bottles
and empty
deodorant sticks
make great molds!
(1) Melt and pour -- using the stovetop
(2) Melt and pour -- using the oven
(3) Melt crayons directly in the molds -- using the oven
(4) Melt crayons directly in the molds -- using the microwave
(5) Melt the crayons with the sun
(6) Melt crayons with a blow dryer
(7) Melt crayons with embossing gun
(8) Melt crayons with candle warmer
(9) Melt crayons with candles
(10) Melt crayons on hot rocks
(11) Melt crayons on heated iron for transfer
(12) Melt crayons with iron and wax paper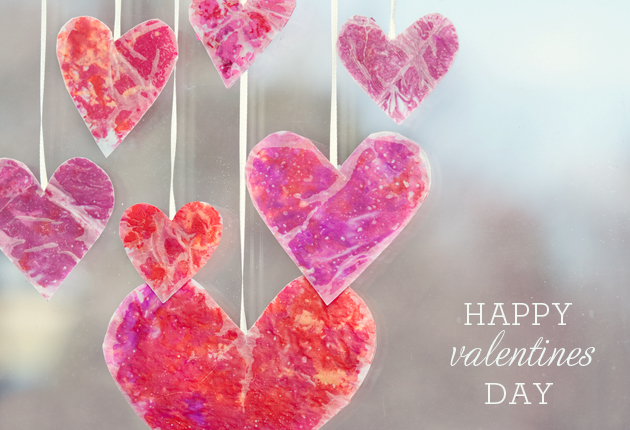 Transparent crayon heart mobiles from napcp
(13) Melt crayons with a light bulb
yeah, that light bulb works says Instructables author K.Therman#8
(14) Melt crayons into sculptures
(15) Melt crayons into a bowl
(16) Melt crayons into candles or use to tint candle wax
(17) Decorate Easter eggs
(18) Melt crayon on fabrics
(19) Warm and bend crayons into art
(20) Melt crayons and draw on warming tray